Employee Spotlights
2021 Caregiver of the Year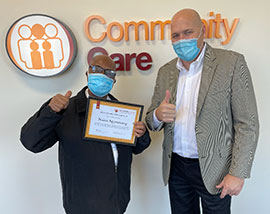 Mark Gatien CEO of Community Care was honored to present Nana Agyemang with the Caregiver of the Year Award for 2021. Nana was recognized for his compassion and dedication in caring for his clients. He exemplifies our "We Care" philosophy and values and consistently goes above and beyond to set an example for other team members to follow. Thank you for being a Healthcare Hero Nana. We are proud to have you on our team!
January's Caregiver of the Month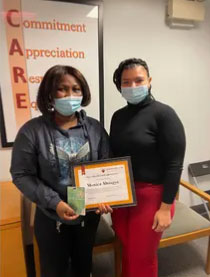 Congratulations to our Caregiver of the Month, Monica Aboagye! Monica is a caregiver who goes above and beyond her scope of work. All of the clients she services are very pleased with her. Last year we lost a caregiver due to the COVID vaccine mandate and Monica stepped in. Despite a language barrier, the patient's daughter called us to compliment Monica stating that she has seen a great improvement with the client's health after Monica started servicing her. Monica was so surprised by the award and her gift that she even cried. It was a great moment for all of us.
January's Healthcare Hero of the Month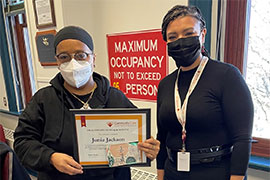 Congratulations to Junie Jackson! Junie is our healthcare hero of the month for January!! Junie has been an exceptional caregiver who has cared for her patient in Kingston NY over 10 years. She is dedicated and committed to improving her patient's health. Thank you for all your hard work!!